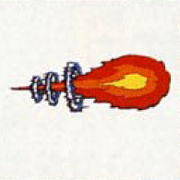 Darkfire, also known as Dark Fire (ダーク・ファイアー) and Demon Fire, is the last fire power that Firebrand obtains in Gargoyle's Quest, Gargoyle's Quest II and Demon's Crest. Although a bit slow, it is the most powerful fire power in the games.
In Gargoyle's Quest, Darkfire is obtained with the Eternal Candle / Candle of the Ghoul Realm, after defeating Lucifer (Rushifell). This is the only attack that can harm King Breager and destroy the Black Light.
Ad blocker interference detected!
Wikia is a free-to-use site that makes money from advertising. We have a modified experience for viewers using ad blockers

Wikia is not accessible if you've made further modifications. Remove the custom ad blocker rule(s) and the page will load as expected.