Demon's Crest
Japanese Name
Demon's Blazon: Makaimura Monshō hen
Release date
1994
Developer
Capcom
Publisher
Capcom
Designer
Tokuro Fujiwara
Platforms
SNES
Wii U Virtual Console
Demon's Crest, known as Demon's Blazon: Makaimura Monshō hen (デモンズブレイゾン 魔界村 紋章編, which translates to "Demon's Blazon: Demon World Village - Crest Arc") in Japan, is a side-scrolling platform game developed and published by Capcom in 1994 for the SNES video game console. The game is part of the Gargoyle's Quest sub-series of the Ghosts 'n Goblins franchise.
Firebrand (Red Arremer in the Japanese version) is on a quest to collect all of the elemental Crests, magical stones which preside over their respective elements (Fire, Earth, Water, Air, Time, and Heaven). It is said that when all crests are combined, the Crest of Infinity will appear, allowing its holder infinite power, and the ability to conquer any and all realms with it. However, during his quest, he is gravely wounded in a battle with the demon Somulo in his efforts to claim the Crest of Heaven, and the demon Phalanx uses Firebrand's moment of weakness to attack him, sealing him and stealing all of his crests for himself. Using their power, Phalanx sets the Demon Realm on fire and blames Firebrand for the incident, saving the victims and becoming the new ruler of the demon world.
Several years later, as part of an unknown plan, Phalanx gives a piece of the Crest of Fire to Firebrand and releases him in the coliseum as part of the night's main event. Firebrand must face a revived Somulo, but manages to destroy him and escapes so that he can go after Phalanx and reclaim the Crests, obtaining one at a time in his battles against Phalanx's general Arma and other locations.
Whether Firebrand wants them for power, glory, or some sort of revenge is never stated. However, during the True Ending, which is attained by defeating the "Dark Demon", it is stated that "Realizing that his true power is not derived from the crests, Firebrand disposed of all the crests." With that information, it can be inferred that Firebrand was perhaps collecting the crests in an attempt to discover said "True Power".
The gameplay is a mix of standard platforming, with mild RPG elements and occasional side-scrolling shooter sequences. Each level can be played multiple times, and often the player has to revisit a level with new Crests to access areas, items and bosses that he or she could not before.
The player collects different 'crests' which, when equipped during the game, allow to change into different-ability Firebrands. Some of the possible powers are Earth, Wind and Water. The player also collects talismans, magic potions and other equipment during the journey.
Characters
Edit
Support Cast
Edit
Enemy Bosses
Edit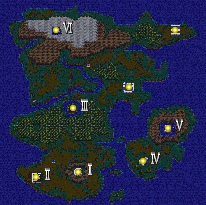 Items and abilities
Edit
External links
Edit