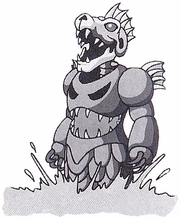 Twin Marr, known as Ranburu Master (ランブルマスター) in Japan, is a merman-like enemy from Gargoyle's Quest that rises from the water and fires a projectile from the mouth. Early in the game he is hard to defeat. This is due to less jumping and flying skills, as these help get around the projectile. The middle pit can sometimes be used to protect against the top water blast.
Ad blocker interference detected!
Wikia is a free-to-use site that makes money from advertising. We have a modified experience for viewers using ad blockers

Wikia is not accessible if you've made further modifications. Remove the custom ad blocker rule(s) and the page will load as expected.