Zakku Druzer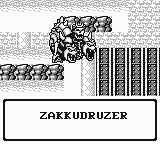 A large, but fast charriot, it has 2 snail heads that can spit fire.
It also has the ability to jump at you which is hard to avoid.
He has the Canlde of Darkness, which was taken to prevent Firebrand from finding/meeting Majorita. By defeating him you get the Power of Claw with it.
After his defeat the Desert of Destitution calms, and you don't get pushed any more
Ad blocker interference detected!
Wikia is a free-to-use site that makes money from advertising. We have a modified experience for viewers using ad blockers

Wikia is not accessible if you've made further modifications. Remove the custom ad blocker rule(s) and the page will load as expected.